NHL Public Relations
TAMPA, Fla. (June 21, 2022) – Toronto Maple Leafs center Auston Matthews, who earlier today captured the Hart Trophy as NHL MVP and Ted Lindsay Award for most outstanding player as selected by the NHLPA at the 2022 NHL Awards, heads the list of players voted to the 2021-22 NHL First All-Star Team.
Flanking Matthews on the First Team front line are Maple Leafs teammate Mitchell Marner on right wing and Johnny Gaudreau of the Calgary Flames on left wing. The defensemen are Norris Trophy recipient Cale Makar of the Colorado Avalanche and Roman Josi of the Nashville Predators. The goaltender is Vezina Trophy winner Igor Shesterkin of the New York Rangers.
Matthews has earned his first berth on the First Team, following his debut on the Second Team in in 2020-21. Gaudreau and Shesterkin also are making their inaugural First Team appearance, while Marner, Makar and Josi have been voted to the First Team for the second time.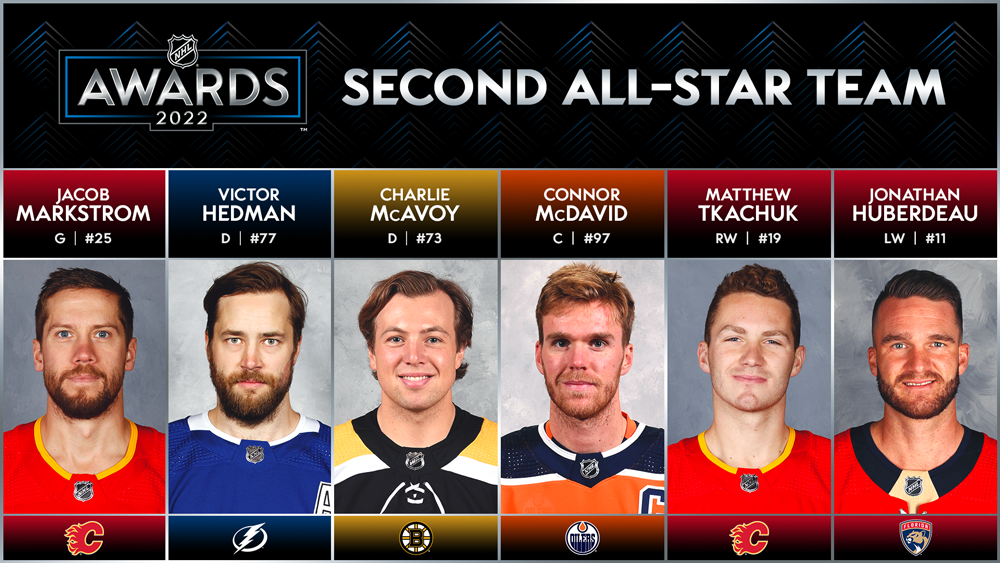 Two of Gaudreau's Flames teammates have been voted to the Second Team, goaltender Jacob Markstrom and right wing Matthew Tkachuk, both making their postseason All-Star Team debut. Tkachuk's Second Team linemates are center Connor McDavid of the Edmonton Oilers, receiving his first Second Team nod to go along with four previous First Team selections, and left wing Jonathan Huberdeau of the Florida Panthers, who has garnered his second consecutive Second Team berth.
Rounding out the Second Team is Tampa Bay Lightning defenseman Victor Hedman, voted to his sixth career postseason All-Star Team (1 First Team, 5 Second Team), and Boston Bruins blueliner Charlie McAvoy, making his postseason All-Star Team debut.
Voting for the All-Star Team was conducted among representatives of the Professional Hockey Writers Association after the conclusion of the regular season.
The complete list of NHL First and Second All-Star Team rosters by season since their inception in 1930-31 is available at the NHL's official records site, records.nhl.com. The site also lists all-time and active leaders voted to the First and Second Teams by position.
* * * * *
2021-22 NHL ALL-STAR TEAM VOTING RESULTS
CENTER
| | | | | |
| --- | --- | --- | --- | --- |
| | | Points | (1st-2nd-3rd) | Career All-Star Selections |
| 1. | AUSTON MATTHEWS, TOR | 805 | (122-63-6) | 1 First Team, 1 Second Team |
| 2. | Connor McDavid, EDM | 709 | (70-119-2) | 4 First Team, 1 Second Team |
| 3. | Leon Draisaitl, EDM | 130 | (0-7-109) | |
| 4. | Steven Stamkos, TBL | 42 | (0-2-36) | |
| 5. | Aleksander Barkov, FLA | 19 | (0-1-16) | |
| 6. | Nathan MacKinnon, COL | 8 | (0-0-8) | |
| t-7. | Patrice Bergeron, BOS | 5 | (0-0-5) | |
| | J.T. Miller, VAN | 5 | (0-0-5) | |
| 9. | Sidney Crosby, PIT | 4 | (0-0-4) | |
| 10. | Elias Lindholm, CGY | 1 | (0-0-1) | |
LEFT WING
| | | | | |
| --- | --- | --- | --- | --- |
| | | Points | (1st-2nd-3rd) | Career All-Star Selections |
| 1. | JOHNNY GAUDREAU, CGY | 779 | (114-67-8) | 1 First Team, 0 Second Team |
| 2. | Jonathan Huberdeau, FLA | 584 | (63-76-41) | 0 First Team, 2 Second Team |
| 3. | Kirill Kaprizov, MIN | 297 | (12-42-111) | |
| 4. | Alex Ovechkin, WSH | 27 | (1-1-19) | |
| 5. | Chris Kreider, NYR | 17 | (2-1-4) | |
| 6. | Jason Robertson, DAL | 11 | (0-3-2) | |
| 7. | Artemi Panarin, NYR | 6 | (0-1-3) | |
| 8. | Kyle Connor, WPG | 5 | (0-1-2) | |
| t-9. | Filip Forsberg, NSH | 1 | (0-0-1) | |
| | Matthew Tkachuk, CGY | 1 | (0-0-1) | |
RIGHT WING
| | | | | |
| --- | --- | --- | --- | --- |
| | | Points | (1st-2nd-3rd) | Career All-Star Selections |
| 1. | MITCHELL MARNER, TOR | 697 | (88-79-20) | 2 First Team, 0 Second Team |
| 2. | Matthew Tkachuk, CGY | 543 | (86-33-14) | 0 First Team, 1 Second Team |
| 3. | Mikko Rantanen, COL | 341 | (14-60-91) | |
| 4. | Patrick Kane, CHI | 48 | (0-6-30) | |
| 5. | David Pastrnak, BOS | 37 | (0-7-16) | |
| 6. | Vladimir Tarasenko, STL | 25 | (1-4-8) | |
| 7. | Matt Duchene, NSH | 15 | (1-2-4) | |
| 8. | Nikita Kucherov, TBL | 14 | (2-0-4) | |
| 9. | Joe Pavelski, DAL | 4 | (0-1-1) | |
| 10. | Timo Meier, SJS | 2 | (0-0-2) | |
| t-11. | Nathan MacKinnon, COL | 1 | (0-0-1) | |
| | Mats Zuccarello, MIN | 1 | (0-0-1) | |
GOALTENDER
| | | | | |
| --- | --- | --- | --- | --- |
| | | Points | (1st-2nd-3rd) | Career All-Star Selections |
| 1. | IGOR SHESTERKIN, NYR | 952 | (188-4-0) | 1 First Team, 0 Second Team |
| 2. | Jacob Markstrom, CGY | 315 | (1-87-49) | 0 First Team, 1 Second Team |
| 3. | Frederik Andersen, CAR | 185 | (0-46-47) | |
| 4. | Juuse Saros, NSH | 107 | (0-23-38) | |
| 5. | Ilya Sorokin, NYI | 72 | (0-17-21) | |
| 6. | Andrei Vasilevskiy, TBL | 71 | (3-12-20) | |
| 7. | Darcy Kuemper, COL | 9 | (0-0-9) | |
| 8. | Thatcher Demko, VAN | 6 | (0-1-3) | |
| t-9. | Sergei Bobrovsky, FLA | 4 | (0-1-1) | |
| | Ville Husso, STL | 4 | (0-1-1) | |
| t-11. | Tristan Jarry, PIT | 1 | (0-0-1) | |
| | Jonathan Quick, LAK | 1 | (0-0-1) | |
| | Tuukka Rask, BOS | 1 | (0-0-1) | |
DEFENSE
| | | | | |
| --- | --- | --- | --- | --- |
| | | Points | (1st-2nd-3rd) | Career All-Star Selections |
| 1. | CALE MAKAR, COL | 950 | (187-5-0) | 2 First Team, 0 Second Team |
| 2. | ROMAN JOSI, NSH | 920 | (173-18-1) | 2 First Team, 0 Second Team |
| 3. | Victor Hedman, TBL | 599 | (17-171-1) | 1 First Team, 5 Second Team |
| 4. | Charlie McAvoy, BOS | 286 | (7-73-32) | 0 First Team, 1 Second Team |
| 5. | Adam Fox, NYR | 276 | (0-68-72) | |
| 6. | Aaron Ekblad, FLA | 96 | (0-13-57) | |
| 7. | Kris Letang, PIT | 89 | (0-16-41) | |
| 8. | Devon Toews, COL | 65 | (0-5-50) | |
| 9. | John Carlson, WSH | 65 | (0-4-53) | |
| 10. | Jaccob Slavin, CAR | 53 | (0-4-41) | |
| 11. | Quinn Hughes, VAN | 20 | (0-3-11) | |
| 12. | Morgan Rielly, TOR | 14 | (0-1-11) | |
| 13. | Miro Heiskanen, DAL | 8 | (0-2-2) | |
| 14. | MacKenzie Weegar, FLA | 5 | (0-1-2) | |
| 15. | Justin Faulk, STL | 3 | (0-0-3) | |
| t-16. | Brent Burns, SJS | 1 | (0-0-1) | |
| | Thomas Chabot, OTT | 1 | (0-0-1) | |
| | Ryan McDonagh, TBL | 1 | (0-0-1) | |
| | Alex Pietrangelo, VGK | 1 | (0-0-1) | |
| | Moritz Seider, DET | 1 | (0-0-1) | |
| | Jared Spurgeon, MIN | 1 | (0-0-1) | |
| | Christopher Tanev, CGY | 1 | (0-0-1) | |
* Points allocation: 5-3-1 (1st-2nd-3rd)
### (6/21/22)
Attachments: