* The trio of Filip Chytil, Alexis Lafrenière and Kaapo Kakko continued to put up points in the 2022 Stanley Cup Playoffs and guided the Rangers to victory in Game 1 of the Eastern Conference Final.
* Mika Zibanejad and Adam Fox also found the score sheet and each reached the 20-point mark this postseason – a feat only six other Rangers players have accomplished in a single playoff year.
* The 2022 Conference Finals marks the third time in NHL history, and first in 54 years (1968 SF), that both Game 1s of the Stanley Cup Playoffs' final four each featured eight or more combined goals.

* After a 14-goal affair in Game 1, the Avalanche and Oilers will hit the ice once again in the Western Conference Final as Cale Makar and Leon Draisaitl look to continue their recent strings of success.



"KID LINE" STEPS UP, DELIVERS GAME 1 WIN FOR RANGERS
The goaltending matchup was the story going into Game 1 of the Eastern Conference Final, but it was the Rangers' "Kid Line" that grabbed headlines in the opener as Filip Chytil (2-0—2), Alexis Lafrenière (0-2—2) and Kaapo Kakko (0-1—1) teamed up on the go-ahead goal and for five points overall to spark the home club to victory.
* Chytil (22 years, 269 days) scored his sixth and seventh career playoff goals. Only four skaters in Rangers history have recorded more postseason goals before age 23: Alex Kovalev (13), Ron Duguay (11), Don Maloney (8) and Don Murdoch (8).

* Wednesday also marked Chytil's third winning goal of the 2022 postseason (also Game 5 of R1 & Game 6 of R2). Only five players in NHL history have scored more game-winning goals in a single playoff year at age 22 or younger: Jake Guentzel (5 in 2017), Chris Drury (4 in 1999), Jaromir Jagr (4 in 1992), Claude Lemieux (4 in 1986) and Steve Payne (4 in 1981).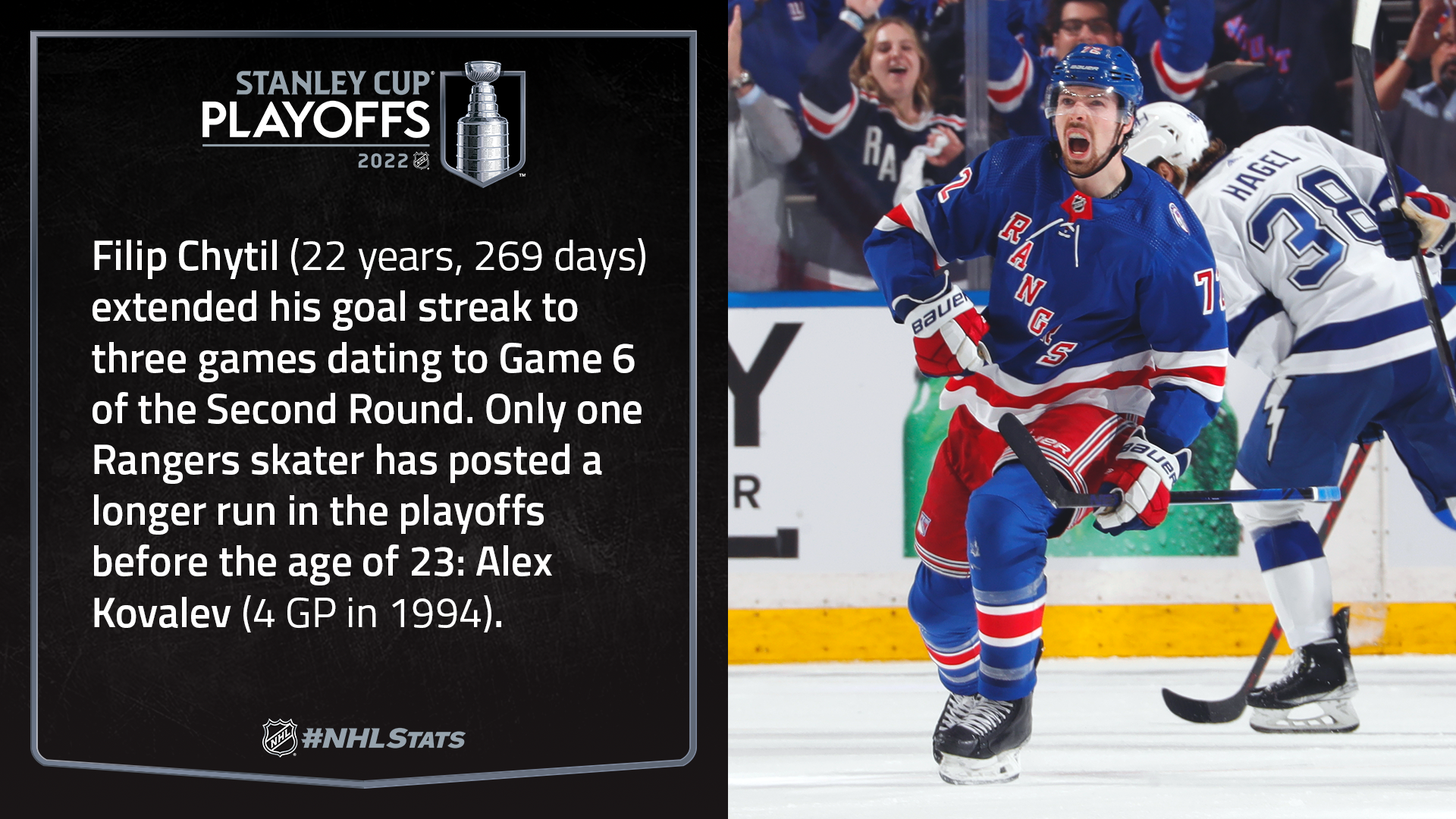 * Lafrenière (20 years, 233 days) boosted his career postseason totals to 2-7—9 (15 GP), surpassing Niklas Sundstrom (4-3—7 in 11 GP) for the second-most career playoff points by a Rangers player age 20 or younger. Maloney (7-13—20 in 18 GP) is the only such skater with more.
* The Rangers are the youngest team remaining in the 2022 Stanley Cup Playoffs, with their current roster's average age sitting at 26.7 years old. New York is looking to become the first team to win the Cup with an average age younger than 27 since the Canadiens in 1993 (26 years, 91 days).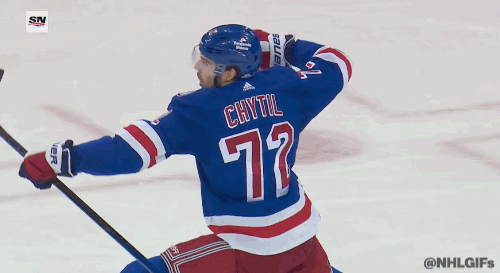 STARS ALSO SHINE AND HELP RANGERS SCORE AT LEAST FIVE GOALS . . . AGAIN
A foursome of Rangers stars also played a pivotal role in aiding the club to an opening-game victory in the Conference Finals, a win that saw New York score more goals against Tampa Bay in the first 35:43 of the contest than Florida had in the entirety of the Second Round.

* Adam Fox, who boosted his career totals in the Stanley Cup Playoffs to 5-15—20 (18 GP), posted 0-2—2 to extend his home point streak to eight contests and surpass Mark Messier (7 GP in 1994) for the longest such run in Rangers history.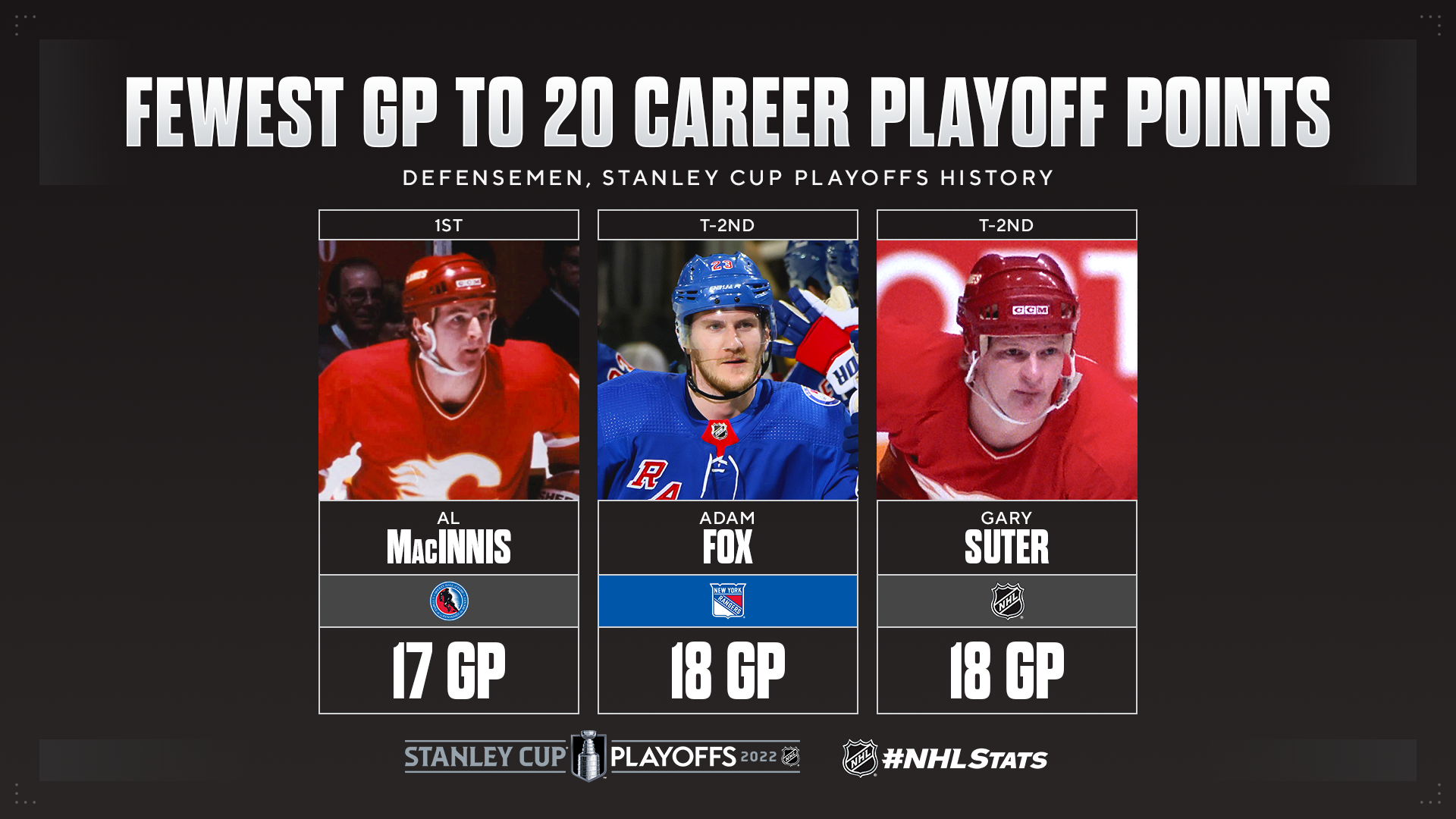 * After a three-assist performance in Game 7 of the Second Round, Mika Zibanejad (1-1—2) found the score sheet once again and has now collected 8-13—21 (15 GP) in the 2022 Stanley Cup Playoffs. The Rangers forward, who sits third in points this postseason behind Connor McDavid (8-21—29 in 13 GP) and Leon Draisaitl (7-21—28 in 13 GP), now trails only Brian Leetch (11-12—34 in 1994) and Messier(12-18—30 in 1994) for the most points in a single playoff year in franchise history.

* Chris Kreider netted the first of six Rangers goals Wednesday just 71 seconds into the night, the fastest goal to start a Rangers playoff contest since Rick Nash in Game 5 of the 2016 First Round in Pittsburgh (62 seconds). It also marked his 33rd career playoff goal, one shy of tying Rod Gilbert (34) for the most in franchise history.

* With chants of "Igor's better" echoing throughout Madison Square Garden, Igor Shesterkin (37 saves) made at least 35 saves for the third straight game and seventh time overall in the 2022 Stanley Cup Playoffs – the most among all goaltenders. In the process, Shesterkin extended the longest playoff home win streak by a Rangers goaltender to seven contests.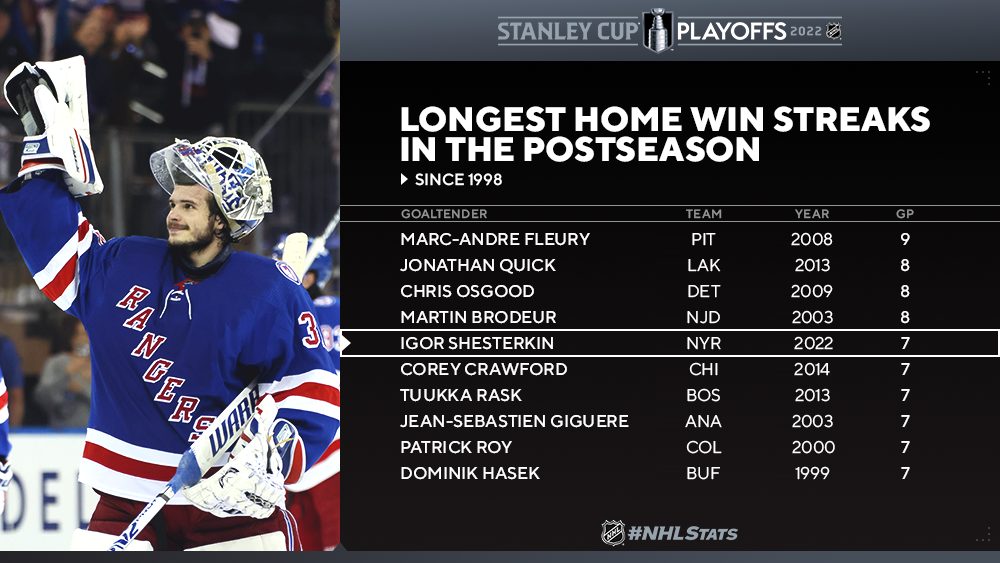 KOPITAR CLAIMS LEADERSHIP AWARD AS 2022 NHL AWARDS ROLLOUT BEGINS
The NHL began revealing winners of 2022 NHL Awards on Wednesday, with Kings captain Anze Kopitar receiving the Mark Messier NHL Leadership Award from the namesake himself during the first intermission of Game 1 in the Eastern Conference Final on ESPN. Click here to learn why Kopitar received the honor, the second time a Kings player has claimed the award following Dustin Brown in 2014.
* The announcement schedule through June 7 is available on the League's media site, as is the 2022 NHL Awards Information Guide.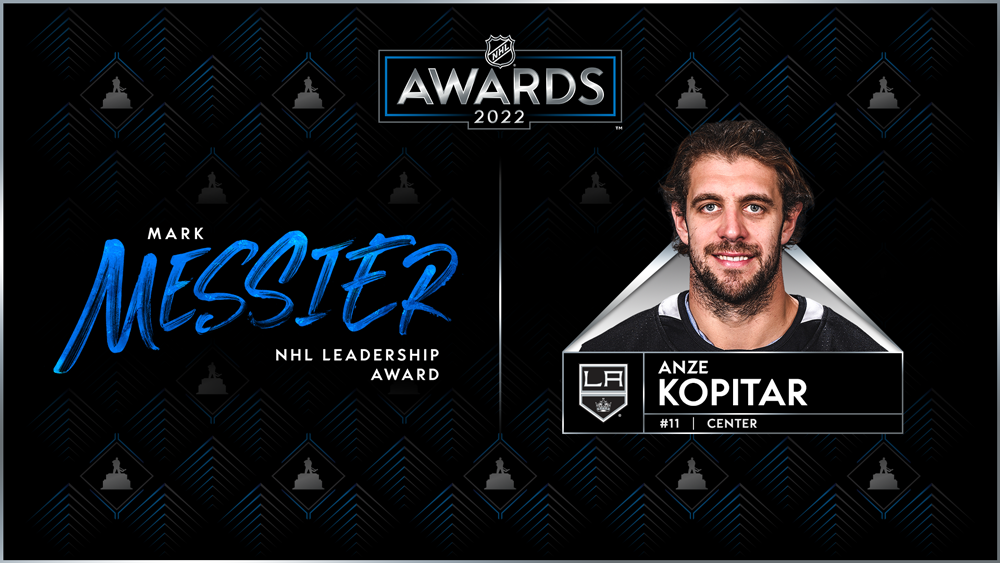 NHL, NHLPA AND 32 CLUBS CELEBRATE PRIDE MONTH
The NHL, NHLPA and 32 Clubs continue to celebrate Pride Month this season. Pride Month is part of the NHL and NHLPA's joint Hockey Is For Everyone year-round initiative.
* All 32 NHL Clubs hosted a Pride Night during the 2021-22 regular season, raising more than $785,000 for approximately 35 local organizations. Over the next few months, 24 clubs will participate in local pride parades, as will the NHL in all three of its office locations – New York (June 26), Toronto (June 26), and Montreal (August 7).
* On May 17, International Day Against Homophobia, Biphobia and Transphobia, the League revealed an updated Pride Shield logo to include all colors of the Progress Pride Flag. For the entire month of June, the League will continue to use this NHL Shield as the avatar for all social media platforms as a show of support for the LGBTQ+ community.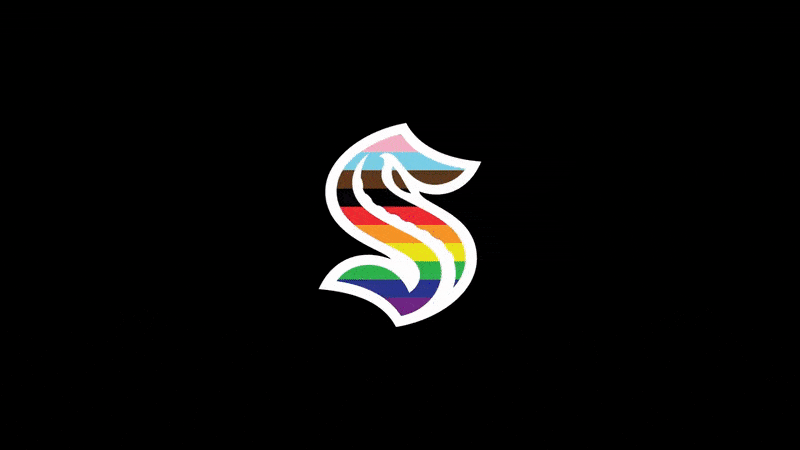 QUICK CLICKS
* #NHLStats: Live Updates for Wednesday, June 1
* Series Scenarios for Thursday, June 2
* Brayden Point could miss Eastern Conference Final for Lightning
* New York Jets wish Rangers good luck in Eastern Conference Final
* Turner Sports and ESPN report strong Second Round ratings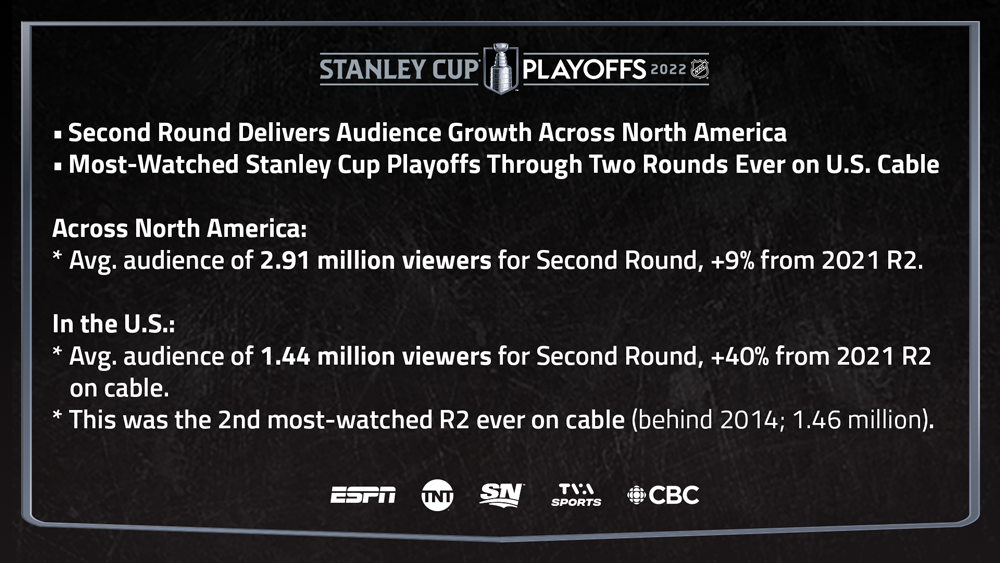 AVALANCHE, OILERS READY TO GO AT IT AGAIN FOR GAME 2
After the two clubs combined for the second-highest scoring game in Conference Finals history (tied), the Avalanche and Oilers will contest Game 2 of the Western Conference Final at Ball Arena.
* Teams that take a 1-0 series lead in the Conference Finals/Semifinals advance to the Final 69 percent of the time (127-57), though both series winners last year lost Game 1 (MTL: 4-1 L at VGK; TBL: 2-1 L vs. NYI). When a team pulls ahead 2-0 in this round, that percentage rises to 93 percent (91-7).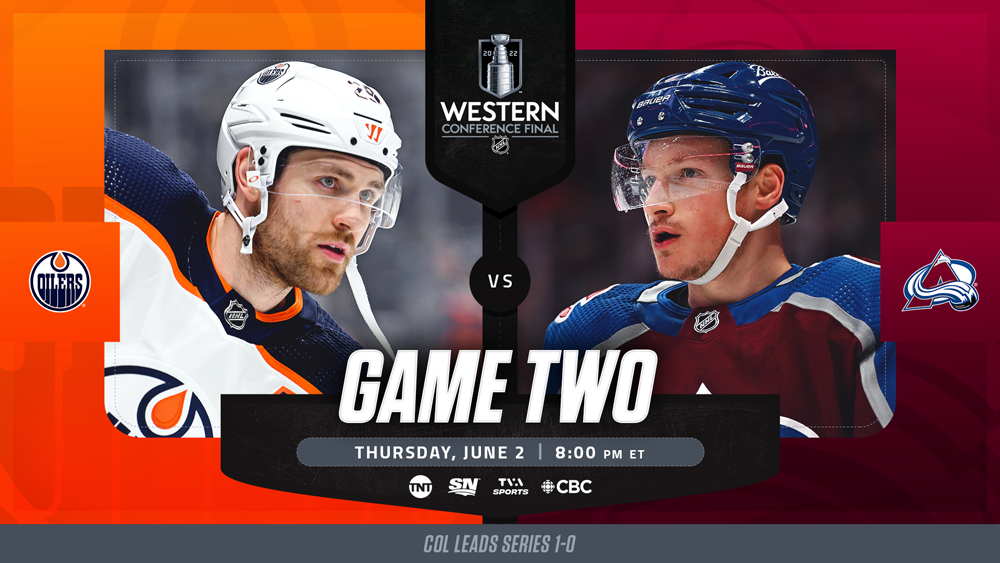 * After becoming the first player in NHL history to register six consecutive multi-assist games, Leon Draisaitl has his sights set on more elite company when Edmonton looks to draw even. With at least one helper in each of his past nine games, the Oilers forward looks to join Bobby Orr (11 GP in 1972), Mario Lemieux (10 GP in 1991), Al MacInnis (10 GP in 1989) and Bryan Trottier (10 GP in 1981) as the fifth player in Stanley Cup Playoffs history with a double-digit assist streak.

* Thanks to his fourth three-point outing of the 2022 Stanley Cup Playoffs in Game 1, Cale Makar leads all Colorado skaters with 4-12—16 (11 GP) this postseason and moved within three points of the most ever by an Avalanche/Nordiques defenseman in a playoff year. Sandis Ozolinsh (22 GP) had 19 points during Colorado's run to a Stanley Cup win in 1996 and Rob Blake (23 GP) tied that record during the team's championship pursuit in 2001.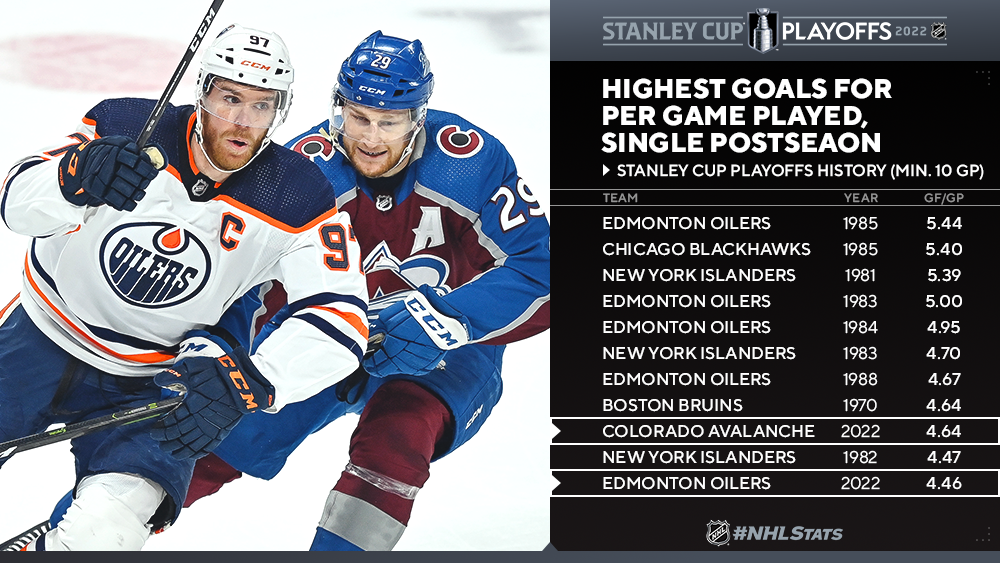 Attachments: