* The Second Round of the 2022 Stanley Cup Playoffs concludes Monday as Carolina and New York contest Game 7 with a berth in the Eastern Conference Final on the line.

* Jaccob Slavin enters play needing just one point to pass "Mr. Game 7" for sole possession of first place on a Hurricanes/Whalers all-time list.

* Alexis Lafrenière looks to join fellow No. 1 overall picks Connor McDavid, Nathan MacKinnon, Ryan Nugent-Hopkins, Steven Stamkos and Erik Johnson in the 2022 Conference Finals.

* Click here to read more on the Second Round finale between Carolina and New York, including Game 7 trends as well as career individual Game 7 statistics for current Hurricanes and Rangers players.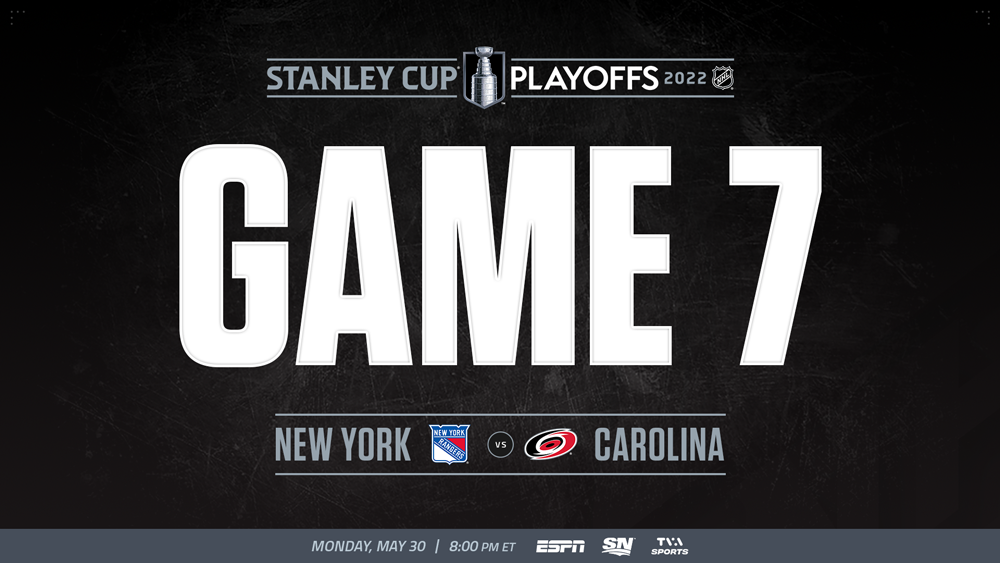 2022 SECOND ROUND COMES TO A CLOSE AS CAROLINA, NEW YORK CONTEST GAME 7
The fourth and final berth in the 2022 Conference Finals will be decided Monday as the Hurricanes and Rangers conclude their series with a winner-take-all Game 7 at PNC Arena.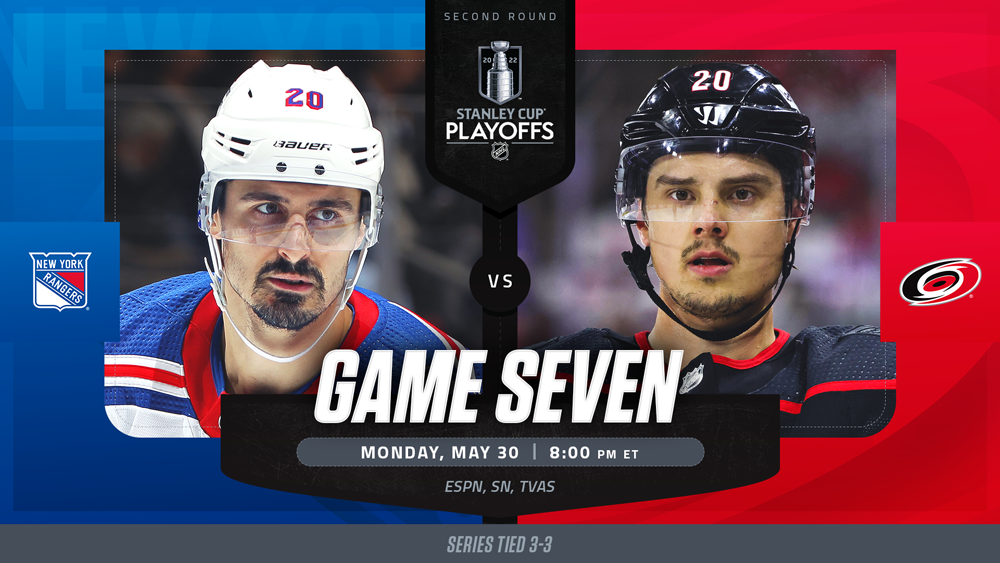 * Carolina and New York each earned a Game 7 win in the 2022 First Round, with the Hurricanes edging the Bruins by a 3-2 margin to advance and the Rangers recording a 4-3 overtime victory against the Penguins to complete their comeback from a 3-1 series deficit. Monday will mark the sixth winner-take-all showdown in NHL history where both teams are contesting their second straight Game 7, following finales in the 2012 Conference Semifinals, 2003 Conference Semifinals, 1986 Conference Finals, 1968 Semifinals and 1964 Stanley Cup Final.

* Carolina has triumphed in each of its last six winner-take-all showdowns and can become the first franchise in League history with seven straight Game 7 victories – the Hurricanes' run dates to the 2006 Conference Finals finale and includes a perfect 3-0 record at home. New York yields an all-time record of 10-6 in Game 7s, including victories in its last two as the visiting team (2-1 W at PIT in 2014 R2 & 5-0 W at WSH in 2013 CQF).

* The 2022 Eastern Conference Final will feature Carolina or New York taking on Tampa Bay, which completed a four-game sweep against Florida to advance – the Western Conference Final pits Edmonton versus Colorado, which contested five and six games, respectively, during the Second Round. The Hurricanes (4-1 L in 2021 R2) and Rangers (4-3 L in 2015 CF) each own an all-time record of 0-1 in Stanley Cup Playoffs series against the Lightning.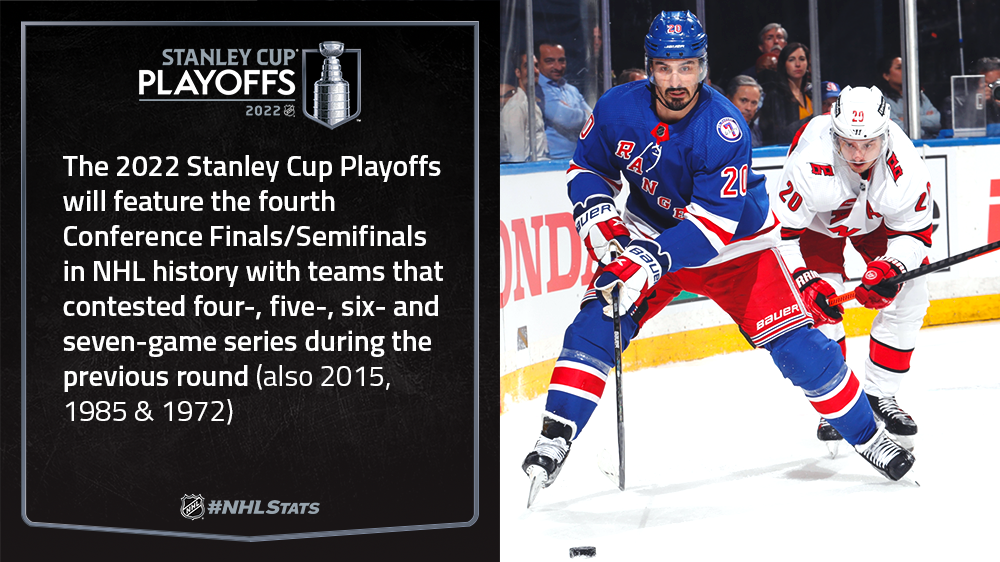 GAME 7 OVERTIME HEROES APLENTY ON ACTIVE ROSTERS FOR HURRICANES, RANGERS
Carolina forwards Derek Stepan and Nino Niederreiter as well as New York forwards Artemi Panarin and Barclay Goodrow account for four of the NHL's last 10 overtime goals scored in a Game 7.

* Stepan, whose last appearance was in Game 6 of the First Round, had his winner as a member of the Rangers to power New York into the 2015 Conference Finals, which was the franchise's most-recent berth in the final-four round.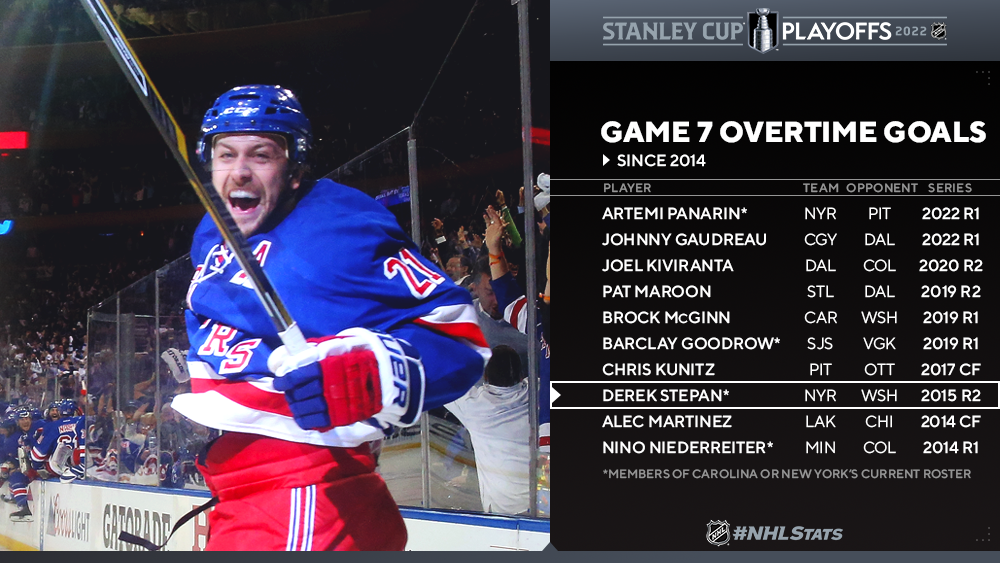 * Jaccob Slavin (0-5—5 in 2 GP) leads current Carolina and New York players with five career Game 7 points, including an assist on the double-overtime winner in the 2019 First Round finale as the Hurricanes defeated the defending-champion Capitals. That was the last Stanley Cup Playoffs series where the home team earned victories in each of the first six contests but the visiting club won Game 7.
* Slavin needs one Game 7 point to pass Justin Williams (2-3—5 in 3 GP) for the most in Hurricanes/Whalers franchise history. Williams had five of his NHL-record 15 career Game 7 points with Carolina.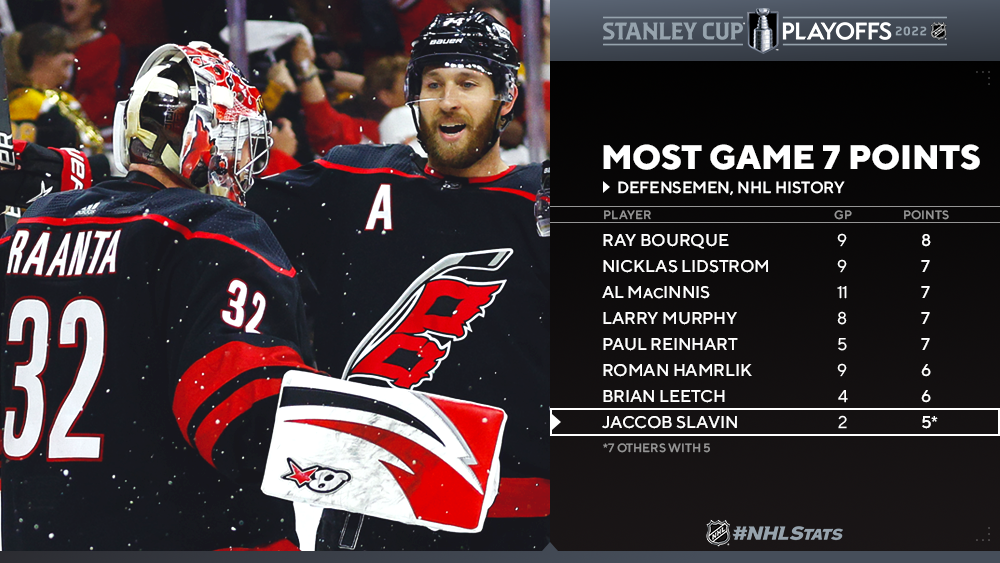 LAFRENIÈRE CAN BECOME SIXTH No. 1 PICK TO REACH 2022 CONFERENCE FINALS
Rangers forward Alexis Lafrenière can become the sixth No. 1 overall pick to reach the Conference Finals this year, following Lightning captain Steven Stamkos, Oilers teammates Connor McDavid and Ryan Nugent-Hopkins as well as the Avalanche duo of Nathan MacKinnon and Erik Johnson.

* The most No. 1 picks to dress at least one game in a Conference Finals/Semifinals is five, which occurred in 1984 (MTL: Bobby Smith, Rick Green & Guy Lafleur; MNS: Brian Lawton; NYI: Denis Potvin).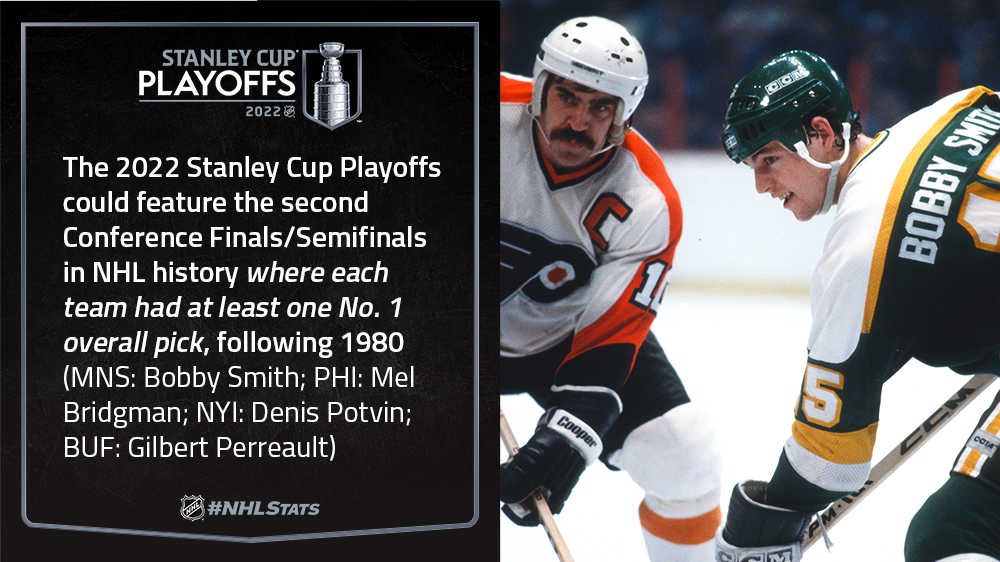 QUICK CLICKS

* #NHLStats: Live Updates for Monday, May 30
* Jason Spezza retires after 19 seasons in NHL, joins Maple Leafs front office
* Igor Shesterkin does it all for Rangers to force Game 7
* Dave Manson and son, Josh, on opposite sides for Oilers, Avalanche in West Final
* Rangers double-overtime win in 1994 tops among conference final games

Attachments: