* The 2022 "Battle of Alberta" concluded with Connor McDavid scoring the first playoff overtime winner of his career to propel Edmonton to the next round and join Esa Tikkanen as the second Oilers skater to score an overtime series-clinching goal against the rival Flames.

* The NHL will feature its Art Ross Trophy winner in the Conference Finals for the first time in over a decade as Edmonton became the first Western Conference team to advance and will await the winner of the Avalanche-Blues series.

* Another home game, another home win for the Hurricanes, who extended their season-opening win streak to seven and earned a 3-2 lead in their Second Round series. The start time for Game 6 on Saturday has been announced for 8 p.m. ET on ESPN, Sportsnet, CBC and TVA Sports.


McDAVID, DRAISAITL WILL OILERS TO CONFERENCE FINALS WITH OVERTIME WIN
The unforgettable 2022 installment of the "Battle of Alberta" came to a close in Game 5 as the Oilers rallied from two- and one-goal deficits to tie the game with the teams combining for seven goals in the second period before Connor McDavid scored his first career playoff overtime winner. The dynamic duo of McDavid (7-19—26) and Leon Draisaitl (7-19—26) now sit tied atop the playoff scoring race with identical stat lines.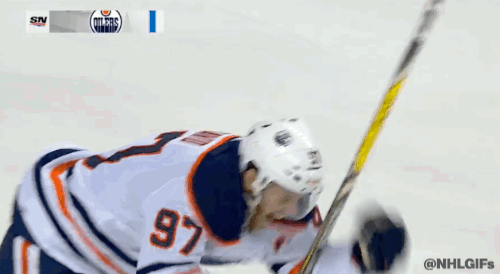 * McDavid and Draisaitl mark the sixth and seventh instances of a player recording 26 or more points through their first 12 games of a postseason, joining Wayne Gretzky (34 in 1983 & 32 in 1985), Mario Lemieux (29 in 1992), Mark Messier (26 in 1988) and Rick Middleton (26 in 1983).

* Draisaitl, who had four assists in Game 5, recorded 2-15—17 in the Second Round and matched Boston's Rick Middleton (5-12—17 in 1983 DF vs. BUF) for the most points in NHL history through five contests of a single playoff series.

* Draisaitl, who set the NHL playoff record for most consecutive contests with at least three points in Game 4, is just one shy of the longest streak of games with three-plus points in NHL history (regular season or playoffs) previously achieved by Jari Kurri (6 GP in 1992-93), Wayne Gretzky (6 GP in 1985-86) and Bobby Orr (6 GP in 1970-71) – all of whom did so in the regular season.

* Draisaitl surpassed the 50-career playoff point mark (18-35—53) with his second four-point outing this postseason – 26 of his 53 points have come in just 12 games during the 2022 Stanley Cup Playoffs.


* McDavid became the second Oilers player to score a series-clinching goal in overtime in "Battle of Alberta" history, joining Esa Tikkanen (Game 7 of 1991 DSF).

* The Oilers captain is the seventh player in the past 40 years to win the Art Ross Trophy and go on to appear in the Conference Finals in that same postseason. Among that cohort, four went on to win the Stanley Cup: Evgeni Malkin (2009), Martin St. Louis (2004), Mario Lemieux (1992) and Wayne Gretzky (1987, 1985 & 1984).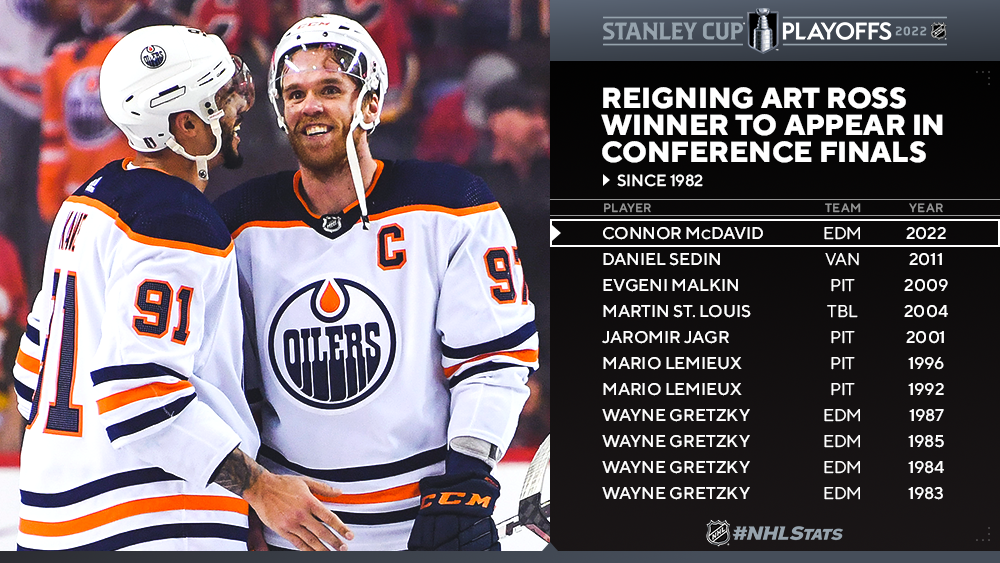 NHL RECORD FALLS IN SEVEN-GOAL SECOND PERIOD
The Oilers and Flames went back-and-forth in the second period, scoring a total of seven goals in a span of 10:27. Here's a look at how it played out:
* After Zach Hyman put Edmonton up 3-2, Johnny Gaudreau and Calle Jarnkrok tallied 16 seconds apart to give Calgary the lead – it marked the third-fastest two playoff goals in Flames history behind Game 1 of the 2019 First Round (0:14) and Game 4 of the 1981 Semifinals (0:15). Hyman, Gaudreau and Jarnkrok all scored within a 31-second span, tied for the sixth-fastest three goals by both teams in Stanley Cup Playoffs history.

* Shortly after, Evan Bouchard scored to give the Oilers and Flames a combined four goals in 1:11, setting a new NHL record for the fastest four goals by both teams in Stanley Cup Playoffs history.

* Over 40 notes from Thursday can be found in the most recent edition of the #NHLStats: Live Updates.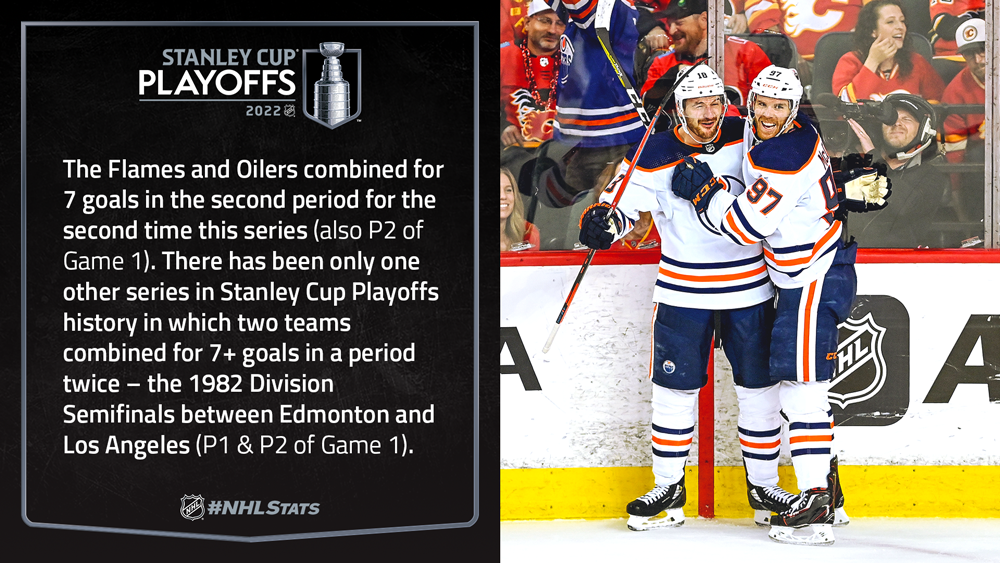 OILERS ADVANCE TO CONFERENCE FINALS FOR FIRST TIME SINCE 2006
The Oilers clinched their first Conference Finals berth since 2006 and remain in pursuit of their first Stanley Cup in 32 years. They did so by erasing a multi-goal deficit to win a series-clinching game for the fourth time in franchise history and first since Game 6 of the 2006 Conference Quarterfinals versus Detroit – the most recent time Edmonton has reached the Conference Finals.


* The Oilers will now face either the Avalanche or the Blues in the Western Conference Final. Edmonton and Colorado have met twice in the Stanley Cup Playoffs with each club winning once. The Avalanche defeated the Oilers in five games in the 1997 Conference Semifinals before Edmonton returned the favor a year later by winning Game 7 of the 1998 Conference Quarterfinals. Meanwhile, the Oilers have yet to face the Blues in the postseason.

* Among players to skate in at least one playoff contest with the Oilers so far in 2022, eight have Conference Finals experience:Duncan Keith (2009, 2010, 2013, 2014 & 2015 w/ CHI), Derick Brassard (2014 & 2015 w/ NYR, 2017 w/ OTT & 2020 w/ NYI), Mike Smith (2011 w/ TBL & 2012 w/ PHX), Brett Kulak (2021 w/ MTL), Evander Kane (2019 w/ SJS), Warren Foegele (2019 w/ CAR), Josh Archibald (2017 w/ PIT) and Cody Ceci (2017 w/ OTT).

TERAVAINEN, HURRICANES EXTEND HOME STREAKS TO TAKE 3-2 SERIES LEAD
Teuvo Teravainen scored the game-winning goal to extend his home point streak and help the Hurricanes win their seventh straight contest at PNC Arena as Carolina jumped out to a 3-2 lead in its Second Round series. The Hurricanes own a 9-0 all-time record when leading 3-2 in a best-of-seven series and an 8-0 mark when starting at home.
 


 
* The Hurricanes became the third team in the past decade to open their postseason with a home win streak of at least seven games, joining the 2013 Kings (8 GP) and 2014 Blackhawks (7 GP). Over the past 25 years, only five clubs have posted a longer run at home at any time: the 2008 Penguins (9 GP), 1997 Red Wings (9 GP), 2013 Kings (8 GP), 2009 Red Wings (8 GP) and 2003 Devils (8 GP).
 
* Teravainen, who has recorded a point in each of those wins, established the third-longest home point streak in franchise history behind Cory Stillman (13 GP) and Eric Staal (8 GP), who both did so during the club's 2006 Stanley Cup run.
 
* Twenty-year-old Seth Jarvis, the youngest player remaining in the postseason, had the primary assist on Teravainen's game winner to collect his seventh point of the 2022 Stanley Cup Playoffs (3-4—7 in 12 GP). Only two rookies in Hurricanes/Whalers history have recorded more points in a postseason: Erik Cole (9 in 2002) and Warren Foegele (9 in 2019).
 
* Antti Raanta earned his fifth straight victory at PNC Arena and matched Cam Ward (5 GP in 2006) for the longest playoff home win streak in franchise history. Raanta's counterpart, Igor Shesterkin, will carry his own five-game home winning streak into Game 6 on Saturday in a series where the hosts have won every matchup so far.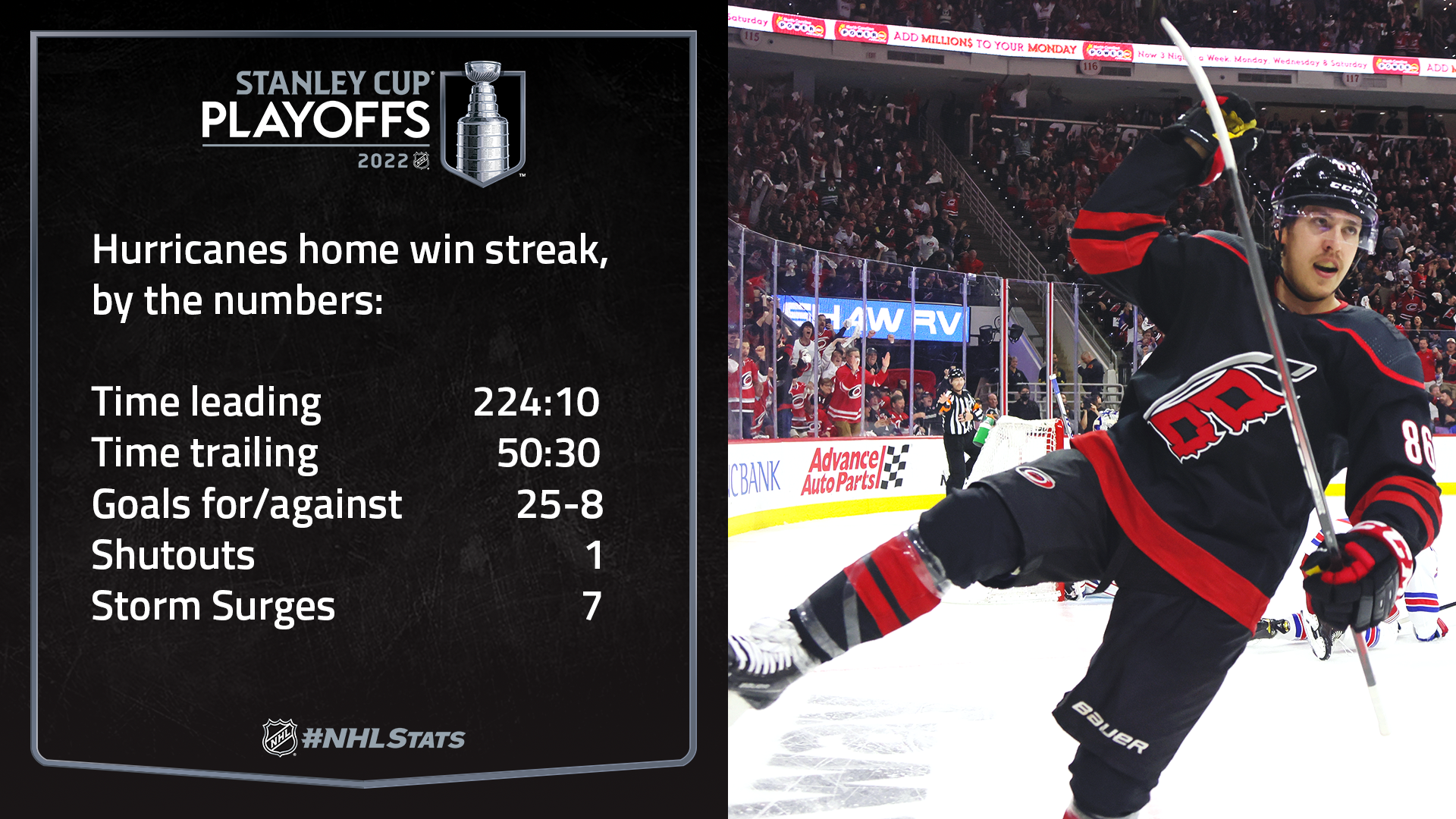 QUICK CLICKS

* Avalanche fan makes signs to support Nazem Kadri
* Lightning return to ice rested, ready for Eastern Conference Final
* 2022 Draft: Shane Wright, Juraj Slafkovsky, Logan Cooley to share spotlight at Combine
* 'Quest For The Stanley Cup' premieres with Lightning bid for three-peat
* Schedule Update for 2022 Stanley Cup Playoffs Second Round Games on May 28 and May 29

AVALANCHE EYE CONFERENCE FINALS, BLUES LOOK TO FORCE GAME 7
After a rollercoaster Game 5, the Avalanche will make their second attempt at clinching a Conference Finals berth in Game 6 on Friday, while the Blues will have the opportunity to even the series at home. Colorado owns an all-time record of 12-5 (.706) when leading 3-2 in a best-of-seven; St. Louis is 4-21 (.160) overall when trailing 3-2 in a best-of-seven, most recently overcoming that deficit with a Game 7 win in the 2019 Second Round versus Dallas.

* There have been 63 all-time occurrences of a team rallying from a 3-1 deficit to force a Game 7, with 49.2% of those who forced a seventh and deciding game eventually winning the series (31 of 63). A team has rallied from a 3-1 deficit to force a Game 7 and win the series already this postseason (NYR over PIT in R1) and once in 2021 (MTL over TOR in R1).

* Nathan MacKinnon, who tallied a game-high 3-1—4 in Game 5, has posted multiple points in four potential series-clinching games. Only two Avalanche/Nordiques players have done so more: Joe Sakic (9x) and Peter Forsberg (6x).

* MacKinnon's three-goal performance was the second by an Avalanche player in as many contests (also Nazem Kadri in Game 4), marking just the second instance of consecutive playoff hat tricks in franchise history. The other instance came in 1987 when Peter Stastny (Game 3 of 1987 DSF), Michel Goulet (Game 4 of 1987 DSF) and John Ogrodnick (Game 5 of 1987 DSF) posted three straight three-goal performances for the Nordiques.

* With two goals in Game 5, including the tying tally in the final minute of regulation, Robert Thomas recorded his first two points of the 2022 Second Round. He boosted his career totals in potential series-elimination games to 2-3—5 (5 GP) – the Blues are 3-2 in those contests.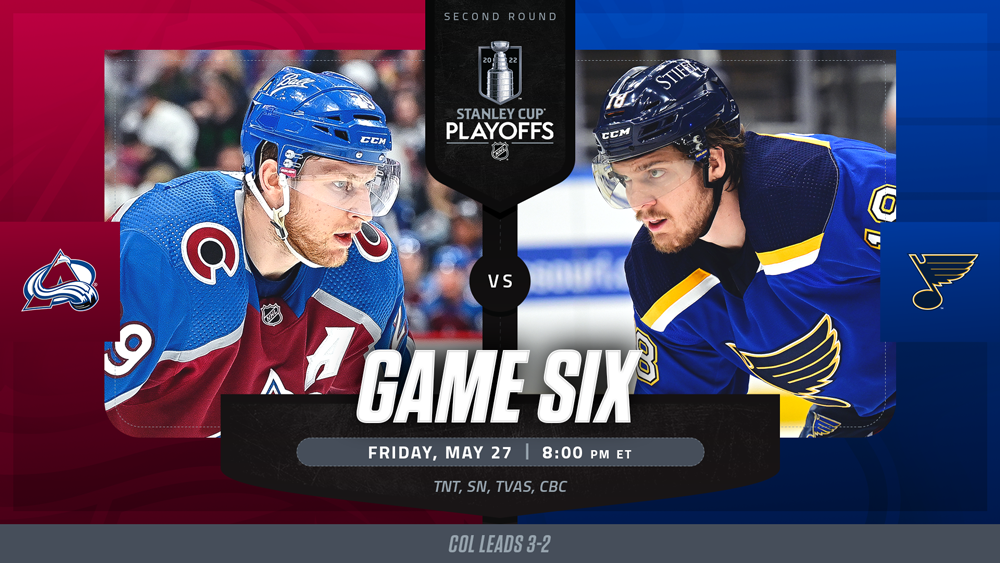 Attachments: