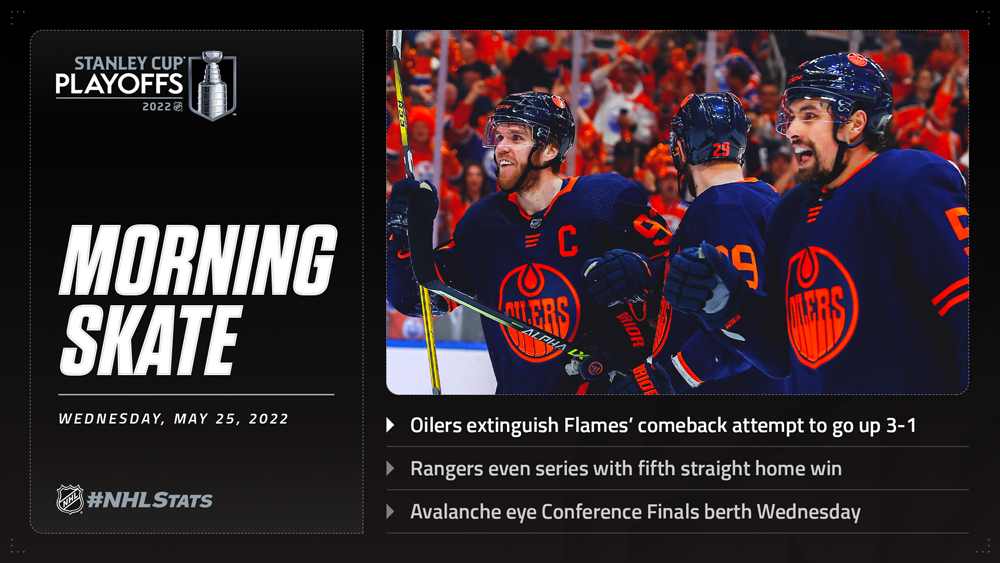 * The Oilers hung on to win another high-scoring "Battle of Alberta" game and Leon Draisaitl made more NHL history as Edmonton took a 3-1 series lead. The Oilers are now one win shy of reaching the Conference Finals for the first time since 2006 and 10th time in franchise history overall (also 1992, 1991, 1990, 1988, 1987, 1985, 1984 & 1983).

* Andrew Copp, Adam Fox and Igor Shesterkin powered the Rangers to another home win as New York morphed a 2-0 series deficit into a 2-2 tie.

* The Second Round series between Colorado and St. Louis shifts back to Denver for Game 5, with the hosts looking to clinch their first Conference Finals berth in 20 years.

OILERS QUELL FLAMES' COMEBACK ATTEMPT TO GO UP 3-1 IN "BATTLE OF ALBERTA"
Edmonton raced to a 3-0 lead in the opening frame, but Elias Lindholm and Mikael Backlund kickstarted Calgary's comeback by scoring second-period goals 36 seconds apart and Rasmus Andersson pulled the visitors even when his clearing attempt from more than 130 feet out beat Mike Smith. The Oilers extinguished the Flames' rally when Ryan Nugent-Hopkins, who opened the scoring 21 seconds into the first period, netted the go-ahead goal with 3:27 remaining in regulation as Edmonton withstood its provincial rival to take a 3-1 series lead.

* Nugent-Hopkins was one of four Oilers players to record multiple points Tuesday, with the others being Leon Draisaitl (0-3—3), Evander Kane (2-0—2)and Connor McDavid (0-2—2). Draisaitl, who set an NHL record for most assists in a playoff period Sunday, became the first player in League history with three or more points in four consecutive postseason games.

* Kane (12-3—15 in 11 GP) leads the League with 12 goals this postseason. He became the first NHL player with 12 or more goals through 11 games in a playoff year since 2008, when Johan Franzen (12-3—15 in 11 GP) achieved the feat en route to winning the Stanley Cup with Detroit. Oilers general manager Ken Holland, who acquired Kane on Jan. 27, won his fourth and final championship with the Red Wings that year (3 as GM & 1 as assistant GM).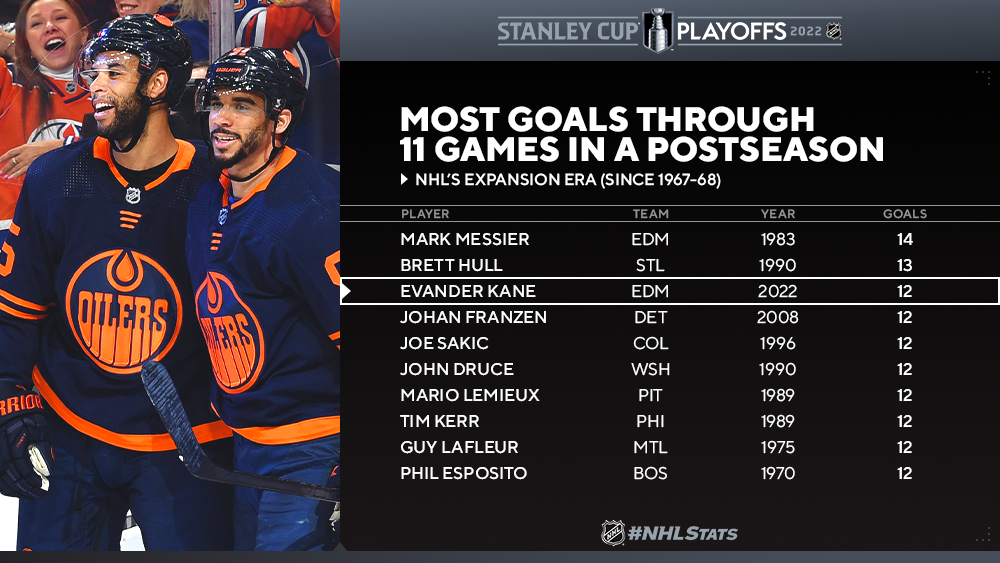 * McDavid (6-19—25 in 11 GP) became the first player to reach the 25-point mark in the 2022 Stanley Cup Playoffs. He also became the fourth player in NHL history to record multiple points in seven consecutive games during a postseason, joining Wayne Gretzky (8 GP in 1983), Tony Currie (7 GP in 1981) and Darryl Sittler (7 GP in 1977).

COPP, FOX, SHESTERKIN CONTINUE WINNING WAYS AT HOME AS RANGERS EVEN SERIES
Andrew Copp (1-2—3) and Adam Fox (1-1—2) combined for five points while Igor Shesterkin made 30 saves as the Rangers extended their home winning streak to five games to even their Second Round series at 2-2. New York became the first NHL team in eight years to tie consecutive best-of-seven series after facing a multi-game deficit in each – in 2014, Minnesota did so in the First and Second Round.

* Copp (5-5—10 in 11 GP), who was acquired by New York ahead of the 2022 NHL Trade Deadline, has the second-most playoff points among in-season additions behind Edmonton forward Evander Kane (12-3—15 in 11 GP). Copp needs six to match the most by an in-season acquisition in Rangers history, achieved by Steve Larmer in 1994 (9-7—16 in 23 GP).

* Fox (4-9—13 in 11 GP) reached 13 points in the 2022 Stanley Cup Playoffs to leapfrog Avalanche defenseman Cale Makar (3-9—12 in 8 GP) for sole possession of the League lead among blueliners. Fox also became the sixth player in franchise history with a postseason-opening home point streak of six or more games, joining Mark Messier (7 GP in 1994), Wayne Gretzky (6 GP in 1997), Luc Robitaille (6 GP in 1997), Pierre Larouche (6 GP in 1986) and Brad Park (6 GP in 1974). Park is the only other defenseman among that cohort.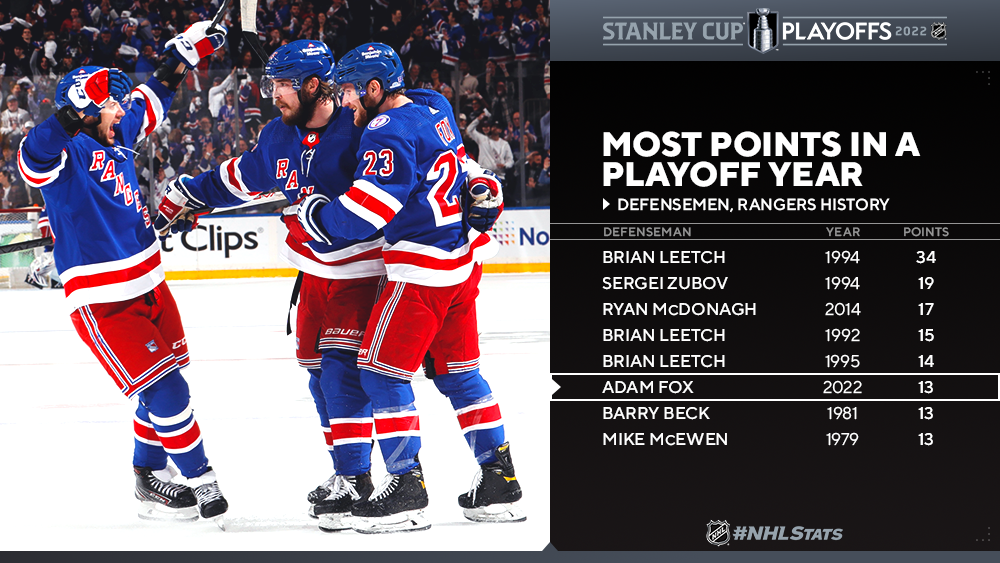 * Shesterkin improved to 5-1 at Madison Square Garden during the 2022 Stanley Cup Playoffs (2.05 GAA, .949 SV%), with his only defeat occurring in Game 1 of the First Round when he made 79 saves in a triple-overtime loss. Shesterkin is 26-7-3 in 36 combined home appearances this season, with a 1.88 goals-against average, .942 save percentage and five shutouts.

* The Rangers matched a franchise record for longest home winning streak in a playoff year, also achieved in 1994, 1981, 1974 and 1940. Shesterkin became the fifth goaltender in club history with a five-game home winning streak during a postseason, following Mike Richter (1994), Steve Baker (1981), Ed Giacomin (1974) and Dave Kerr (1940).

QUICK CLICKS

* NHL condemns violence that took place Tuesday in Uvalde, Texas
* #NHLStats: Live Updates for Tuesday, May 24
* Series Scenarios for Wednesday, May 25
* Blues forward David Perron fined for cross-checking
AVALANCHE AIM TO CLINCH FIRST CONFERENCE FINALS BERTH IN 20 YEARS
Colorado can advance to the Conference Finals for the first time since 2002 and seventh time since the franchise relocated to Denver in 1995-96 as its Second Round series with St. Louis shifts back to Ball Arena for Game 5. The Avalanche's six previous trips to the Conference Finals all came within the club's first seven seasons after moving from Quebec City.

* The Blues will look to rebound from a 3-1 series deficit to win a best-of-seven for the third time in franchise history (2-12), after previously doing so in the 1999 Conference Quarterfinals against the Coyotes and 1991 Division Semifinals versus the Red Wings. St. Louis can also become the third NHL team to do so against the No. 1-ranked team in a conference (since 1974-75 when conferences were introduced), following Montreal in the 2010 Conference Quarterfinals versus Washington and New Jersey in the 2000 Conference Finals against Philadelphia.

* Andre Burakovsky (5-7—12 in 18 GP) leads all current Avalanche players in career points in potential series-clinching games, while Mikko Rantanen (1.50 P/GP: 4-5—9 in 6 GP), Nathan MacKinnon (1.25 P/GP: 4-6—10 in 8 GP) and Nazem Kadri (1.20 P/GP: 4-2—6 in 5 GP) have all averaged more than a point per game in that scenario.
* Brandon Saad leads all Blues skaters in career points in games when facing elimination (4-10—14 in 14 GP), while his teams have a 10-4 record in those contests.